It's a new year.  Most people that I know agree that 2020 wasn't a good one, and we are probably in for some tough times in 2021.  I can't do anything about the growing global pandemical, political, racial, and financial crises.   What I can do something about is myself.   So in an admittedly cliche new year's resolution, I'm going to try to get my home and body into shop.  While the world rages on, at least I can try to be comfortable in my home and in my own skin.
On this site, I'm going to chronicle my health progress.  I don't expect this is going to be much interest to you, however you found your way here, but it helps keep me honest and motivated, and since this is my website, I'm gonna go ahead and use it as my journal  🙂
I'm going to include food ideas, progress photos, activity notes, random musings/bitchings/triumphs…  whatever I'm feeling for that post.  Some of the posts might include links to amazon products, and those links might contain my affiliate code which grants me a couple cents if you buy something from them.
So here on this first day, let's establish the "before".  Hopefully 365 days from now, there's a better "after".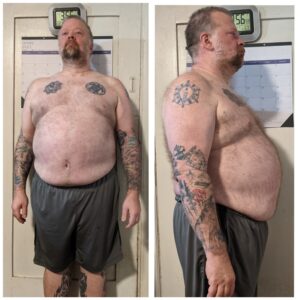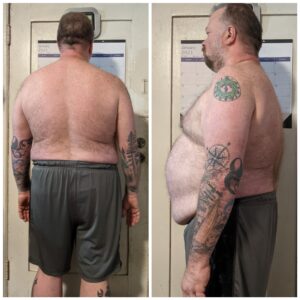 I've always struggled with my weight, but the stay-at-home orders that governed most of 2020 resulted in my activity level dropping to practically nothing.   Most days I didn't walk farther than the mailbox, so one of the challenges will be to get my activity levels up without putting myself at increased risk of covid.  Walks around the neighborhood during off-peak hours, and hikes in the desert come to mind.
The other part of this is of course food.   I bought a lot of carbs for the emergency pantry at the beginning of the pandemic lockdown, and have been eating a lot of things that I shouldn't be, as a diabetic, but I love me some instant ramen.  Especially   Nissin Demae Black Garlic Oil Instant Ramen Noodles.     Rather than give up my beloved ramen, I'm going to try replacing the noodles with alternatives, like House Foods Tofu Shirataki Noodles, and Palmini Angel Hair Noodles.
I've tried the Palmini for the first time today at lunch, and it has promise.   I didn't prepare it correctly, so it was noticeably vegetable, but in reading the instructions I have some ideas for next time.  It does seem that instant ramen noodles have a thickening effect on the soup, so I'll need to come with with something to improve the broth a bit too, something that isn't revolting (looking at you, guar gum).  Breakfast was a pomelo (pummelo) the size of my head, but still under 50 calories, and dinner was a steak topped with blue cheese, and mushroom and squash on the side.  I topped it off with sugar free pudding. My grand total for today comes in just under 1300, which comes in under my target of 1500.   I didn't manage much exercise today, but it's a holiday  😉
Today's weigh in stats:
301.3 lbs total
40.8 bmi
37.8% body fat
45.4% water
33.5% muscle
8.2% bone
3564.1 kcal BMR
21.8 visceral fat
187.3 lbs lean body mass
113.9 lbs body fat mass